Book publishing: "Particle Sizing in Geosciences: Explanation of Various Techniques and Pre-treatments"
Charlotte Rasmussen, laboratory manager at Department of Geoscience, has had an e-book published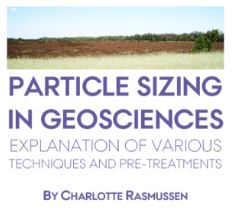 Synopsis
This paper describes different methods for particle characterization, specifically size and shape, from a technical perspective. It emphasizes on analytical procedures in the laboratory, practical challenges and data processing. The content is based on hands-on experience with soil and sediment materials and provides theoretical background information, examples of relevant computations, descriptions of hardware and discussions of using different settings. It is intended to be used as a handbook and may be useful as a guide when designing a local procedure for particle size and shape methods.
To achieve results of the highest quality, attention should be given to the importance of sample handling, relevant pretreatment and dispersion into single, free flowing particles. Equally important is the attention to detail, ranging from proper laboratory working conditions to critical evaluation of data.
One of the main and most important conclusions is the difficulties in comparing data obtained by techniques that measure different properties. This observation does not only apply to particle characterization but is universally applicable.